The Imbert Prize
The ASC is committed to encouraging the development of ideas and best practice in the advancement of risk and security management throughout the UK and each year award an annual prize to worthy recipients in industry, academia and business. The Prize is named after one of our Patrons, Lord Imbert of New Romney CVO QPM JP, former Commissioner of the Metropolitan Police and Lord Lieutenant of Greater London who sadly passed away in 2017. The awards comprise of three seperate awards:
The Imbert 'Dissertation' Prize. An award of a year's free membership to the ASC is given to the author of a selected dissertation as submitted by an academic institution providing security courses in higher education. Nominated dissertations are submitted by faculty staff and must cover a topic that is relevant to consultancy in security. Current academic institutions invited to participate in the award scheme include Cranfield University, Loughborough University, Portsmouth and Buckinghamshire New University.

Each dissertation is reviewed by an independent award panel comprising of members and industry practitioners as appointed by the ASC Board. In 2017, the judging panel decided to award 3 shortlisted candidates; Major Paul Ramsay, Cranfield University (Winner), Andreas Trondalen, Brunel University, London and Rethar Schmidt, Portsmouth University. All finalists were invited along with one other of their proposers to the annual Imbert Prize luncheon where the awars were presented. All nominees recieved a plaque acknowledging their dissertations
The Imbert 'ASC' Prize is awarded each year to an ASC member that has made the most significant contribution to the security consultancy sector in the preceding year as nominated by members of the ASC and as adjudged by the ASC Award Panel. In 2017 the prize was awarded to Warren Collins for his contribution and support in managing the Associations website.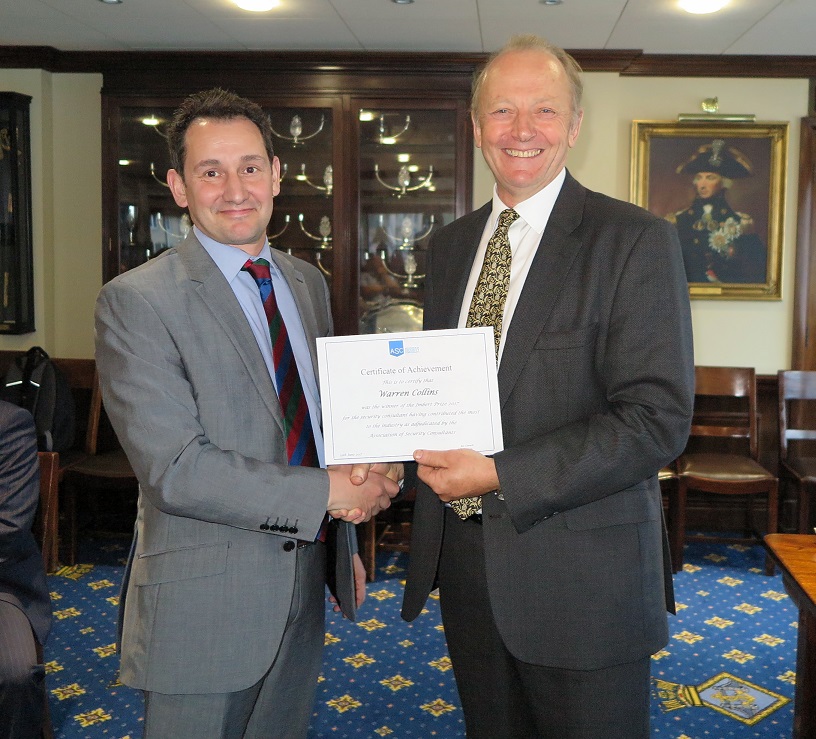 The Imbert 'Associations' Prize is awarded to the person making the most notable contribution in the security industry in the preceding year and adjudicated by an ASC Award Panel. Nominations are submitted each July by leading security organisations in the private security industry sector and including the British Security Industry Association (BSIA), the Security Institute (SyI), the International Professional Security Association (IPSA) and the American Society for Industrial Security (ASIS) - UK Chapter. The winner is announced at the ASC's annual security conference CONSEC.

Previous Recipients:

ASC Consultants Prize:
2016 Bob Martin
2015 Roger Noakes
2014 Joe Connell
Dissertation Prize:
2016 Matthew Fitton, Cranfield University
2015 Peter Finch, Bucks New University
2014 Paul Easter, Cranfield University
Associations Prize:
2016 Professor Martin Gill, ASIS & SySI
2015 Mike White, IPSA
2014 Peter Finch NAHS