Founded in 1991, the Association of Security Consultants (ASC) is recognised as the professional organisation for independent security consultants, representing their interests and promoting their activities.
Outlined below are the most frequently asked questions (and answers) in regard to the benefits of joining the Association of Security Consultants – if however you have a question that is not covered then please complete the easy to use enquiry form available on our Contact Us page
Am I entitled to join?
Full membership
Full membership is open to principals and employees of independent security consultancies only. Membership is on an individual basis and does not apply to the business whether it is sole trader, partnership or limited company. For the purposes of FULL ASC Membership, 'Independent' means that neither the member, nor the company or organisation the member works for, provide security products or security services.
Associate membership
Individuals employed in the security sector that do not meet the criteria above. Associate status is considered to be any security practitioner employed to provide professional security advice including, for example, security installers and systems manufacturers, insurance surveyors, crime prevention officers and corporate security advisors. It will also include applicants who are working towards meeting the core competences or qualifications for membership.
What are the membership benefits of joining?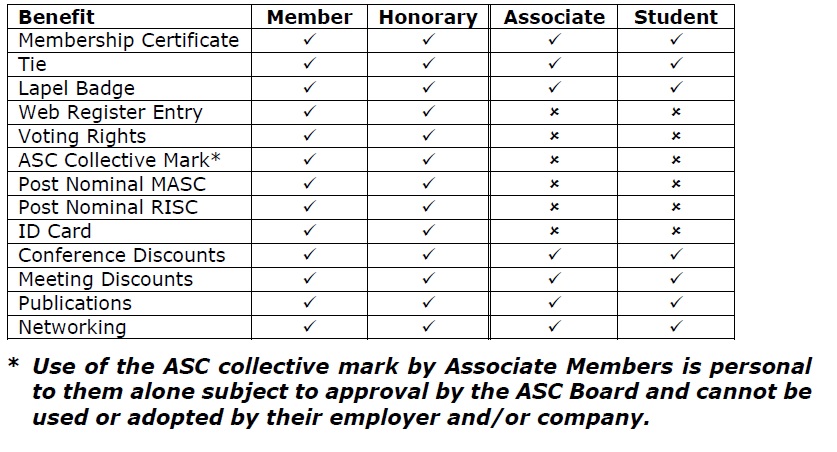 Registered Independent Security Consultant (RISC) status
Only available to full members of the Association of Security Consultants who are independent security consultants (Associates cannot use the RISC Post-nominals). Entry on the unique publicly-available UK Register of Independent Security Consultants and use of the 'RISC' post-nominal and ASC collective mark and logo – give the public, your clients and peers confidence that you are independently vetted, subject to peer review, professional and truly independent.
Big savings with free entry to great networking
Access to £1,100 worth of benefits for just £160 annual fee (and no VAT!) per year – free entry to our five educational and networking Business Groups at a prestigious City of London venue together with our highly-respected annual conference and exhibition, CONSEC. Entry also to the prestigious Imbert Awards at the RAF Club Piccadilly.
London Chamber of Commerce Premier Plus membership
Benefit from ASC's Premier Plus membership of the London Chamber of Commerce & Industry (LCCI) – free use of the London Chamber meeting space & facilities; attend free networking events; free legal document creation and advice line; use of the Chamber 'proud to be a member' logo on your website; receive items of stationery and selected marketing materials, plus many other business benefits (minimum price for a company of 1-2 members is normally £520).
Professional development whilst networking
Excellent networking and educational activities – CPD/CPE credits for all events (up to 18 per year; e.g. 2 credits per Business Group and up to 8 credits for CONSEC).
Opportunities & leads
Business opportunities, leads and collaboration projects.
Membership certificate & accoutrements
ASC members' tie, lapel badge, certificate and identity card. Access to the online members' area for sharing of ideas, opportunities, advice, discussion, and news; and the Suppliers Database.
Industry representation
Access to the ASC Library (which holds the BSI Codes of Practice, international and UK standards). Representation on industry standards committees and LCCI's policy-forming committees (for instance, the Defence & Security Committee).
Media opportunities
Media-speaking opportunities on behalf of the ASC.
Discounted services
Discounted marketing and business services from third party suppliers.
How much does it cost to join?
ASC Member: Current fees are: - £50 (non-refundable) on application to cover our vetting and verification costs, with £160 annual subscription due on the anniversary of your membership being approved
ASC Associate: Current fees are £50 (non-refundable) on application to cover our vetting and verification costs and £150 subscription per annum due on the anniversary of your membership being approved
What is the application process?
Our application process is simple and completed online. We aim to complete the process within 21 days.
Firstly, you should decide whether you are applying for Full or Associate status (see the definitions above) and then provide your details through the Contact Us form on this page. You will then be contacted by our Director for Recruitment by email who will assist you through the process. This will involve paying the application fee, at which point you will be emailed personal login details for our independent online vetting and verification process and during which you will be required to supply two referees and identification documents. Then, following a peer review of your application and vetting report by Board members, you will be notified of their decision.
How do I join?
For further information please use our membership enquiry form on this page.